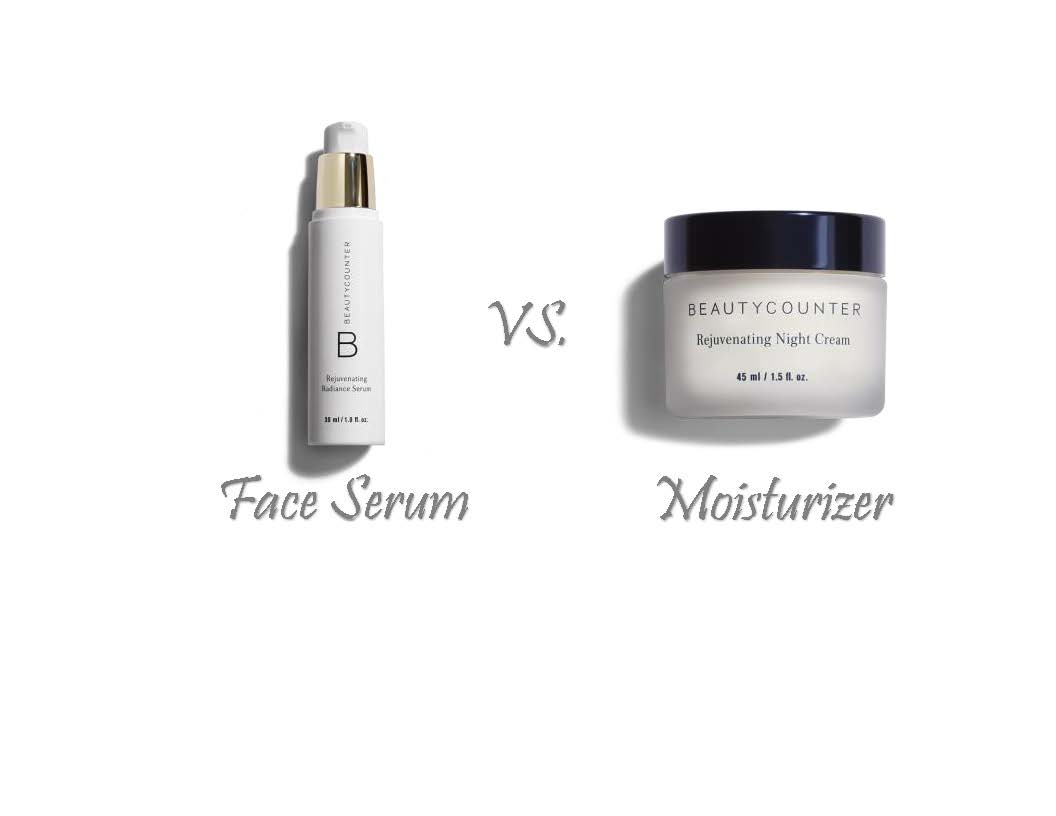 FACE: Serum VS. Moisturizer
EEKS…. I keep seeing so many people use the terms "serum" and "moisturizer"  used interchangeably? They are sooooo not the same thing and one cannot really be used over the other. In fact, the other is kind of pointless without the other… is that confusing? Follow this…
Face Serum is basically food & vitamins for your skin (and body, since your skin absorbs errrrrrrything you put on it). Literally, your skin absorbs your products and the ingredients in them, within about 26 seconds of application!
So what is moisturizer for? Well, just that: It moisturizes! It basically sits on the very outer layers of your skin and absorb at a slower rate (because they are made up of bigger molecules!). It basically acts as a barrier for skin, keeping moisture and water IN your body.
Yup! I mean, do you need water and food to stay alive? Of course! It is basically the exact same concept: we can survive without food (serum) for a LONG time, but not water! So… if you want your skin to "survive", give it a good moisturizer (remember, it keeps the water in)! If you want your skin to thrive, give it some serum (all the food) too! Long story short: You need both!
Just so you know, serum goes on first, before anything else, so your face can absorb each and every ingredient and vitamin!
Which brings me to my next topic….
Don't "feed" your skin just anything. In my Primal Mom blog, I promote anything and everything "Real Food"! Within the four walls of our home, we keep out the processed food! So would I feed my face… the thing EVERYONE sees first… cheetos?? NO! The ingredients in serums are made up of super tiny molecules, which absorb into your skin/body in less than 26 seconds: MAKE THEM COUNT! Don't use dangerous chemicals or ingredients that can harm you. Then, add the moisturizer to LOCK in all those nutrients and protect your skin!
I spent years researching the best products out there that aligned with everything "Primal". Here is a rundown of my squeaky clean, primal skin care routine, along with the serum and moisturizer I use:
Cleanser: Nourishing Cream Cleanser
Toner: Rejuvenating Toner Pads
Serum: Rejuvenating Radiance Serum
Moisturizer: Nourishing Cream
Face Oil: Balancing Face Oil
Why Beautycounter SERUM?
Well, it is just the food your skin needs: algae, vitamin C, chamomile flower oil, shea butter, calendula flower extract, green tea, almond oil, apricot oil, jojoba, cranberry, apple…. I could go on!!!
If you are a clean food junkie, like me, I HIGHLY recommend you start researching your skin care products (and those things you use on your little ones, too!). A great source for that is the Envrironmental Working Group site! They have a million products listed there, their safety/hazard levels and why and which ingredients are of concern…
WARNING: getting on that site is kind of a black hole and will change your view on the industry. Keep this in mind, as you look around your house… the United States has not passed a health protective beauty law since 1938. That means that every chemical on the market, that has been introduced since 1938 (some 90,000-ish ingredients), has NOT been tested for human safety… Sad…
If you want to learn more about BEAUTYCOUNTER & their mission to get safer products into the hands of everyone, please email me! I can help you tackle a new, safer skin care routine! Our health matters!
Amber@PrimalMom.com